Sucre Spanish School - Welcome to our Spanish School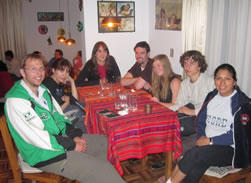 Our mission is to provide you the best methodology and atmosphere to learn Spanish and experience the vibrant Bolivian Latin American culture. Sucre Spanish School has an complete student full immersion approach combined with a highly motivated, well-trained staff and well equipped facilities; guaranteeing to make language studies successful, enjoyable and unforgettable for you!
Welcome to Sucre Spanish School in the capital of Bolivia. We educate our students in many ways, from Spanish language training to lessons about Bolivian tradition and cultural understanding. Our personalized, student-centered methodology is based on individual interests, needs and learning styles. The school's emphasis is on conversation, although our classes also include grammar, audio, writing and reading materials.
The school offers individual or group lessons to students of all ages and at multiple levels, from basic through advanced. Our program is flexible in terms of the Sucre Spanish School, content and sequence.
As a student , you will have the chance to explore Sucre's fascinating colonial city with our free city excursions, cheer side-by-side with locals at soccer-games of the Universitarias and learn more about Bolivian culture by participating in our weekly Latin dancing and cooking lessons. If you want to explore beyond Sucre, will arrange tours and excursion to any destinations in Bolivia to incorporate and expand your Spanish language learning experience.
Sucre Spanish School
It is a great idea to learn Spanish in Sucre, Bolivia - Why?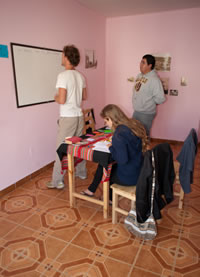 Sucre is one of the most charming and best preserved colonial cities in South America. It has a reach history. Read about it!
Sucre has a vibrant nightlife because of its University crowd. Have a party and feel the passion of the Latin way of living!
Sucre is very 'tranquilo' with a low crime rate. It is the safest city of Bolivia.
Have you been freezing in Uyuni and Potosi or sweeting in Santa Cruz? Stay in Sucre and enjoy the year around nice mild climate.
Are you tired of traveling? Take a breat at Sucre Spanish School !. Relax and learn Spanish. You can experience the Bolivian culture.
The freedom movement of South America started 200 years ago in Sucre. Until today it is a progressive and liberal city. Practice your Spanish with educated locals.
Do you have a low budget? No problem, you get a lot for your money here in Sucre.
With cheap domestic airfares, Sucre provides a great base for discovering other parts of Bolivia. The aiport is close, just 20 min from the City Center.
Come join us and learn Spanish
in the best atmosphere possible:
Live an amazing adventure,
take unforgettable journeys,
make new friends, and
become part of a new family.
We await you in the Sucre Spanish School Bolivia!
Feel free to contact us or make a reservation